To ensure your convenience, below is the information you need about our podiatry office, including our hours, location, appointment scheduling and insurance acceptance.
Appointments
If, for any reason, you cannot keep a scheduled appointment or will be delayed, please call as soon as possible. Charges may be incurred for appointments cancelled less than 24 hours before scheduled appointment time.

Insurance
Our office accepts a variety of HMOs, PPOs, and other health plans. Please call our office to verify acceptance of your insurance carrier.
Boynton Beach Office
1325 South Congress Ave.
Suite 108
Boynton Beach, FL 33426

P: 561-369-3300
F: 561-734-2811
Monday:
Tuesday:
Wednesday:
Thursday:
Friday:
9am - 5pm
9am - 5pm
9am - 5pm
9am - 5pm
9am - 3pm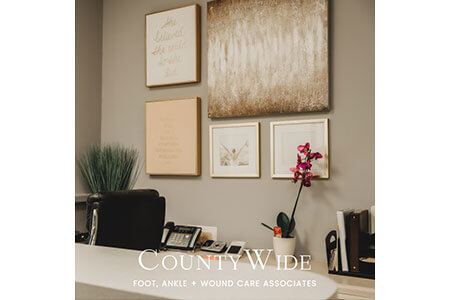 Roughly 75% of Americans can expect to experience foot and ankle problems at some point in their lives. And because the feet and lower extremities support the rest of the body, it's only a matter of time before these issues impact an individual's overall health and well-being.
While occasional discomfort is normal, it's essential to seek the health of a knowledgeable Boynton Beach Podiatrist when foot and ankle pain lasts more than a few days or weeks.
Dr. Desiree Garzon, DPM, and her team at County Wide Foot, Ankle & Wound Care provide the highest-quality and comprehensive care to patients in Boynton Beach and throughout Southeast Florida. Specializing in all areas of podiatric medicine and surgery, our Boynton Beach foot doctors strive to stay abreast of the latest innovations in podiatry, while ensuring every patient is involved in the decision-making process and fully understands their unique medical needs.
Our offices are easy-to-access throughout Palm Beach County, FL.
TO SCHEDULE AN APPOINTMENT AT ONE OF OUR CONVENIENT LOCATIONS, OR TO LEARN MORE ABOUT DR. GARZON'S OUTPATIENT SURGERY OPTIONS, PLEASE CALL 561-369-3300.
Providing the Best Foot, Ankle & Wound Care to Patients in Boynton Beach
As a top Boynton Beach Podiatrist, Dr. Garzon and Dr. Fischborn treat all disorders affecting the foot and ankle, including:
Achilles Tendinitis
Ankle Sprains/Instability
Ankle Fractures
Arthritic Foot & Ankle
Athlete's Foot
Bunions
Corns & Calluses
Diabetic Foot Care
Flat Feet
Fungal Nails
Gout
Heel Pain/ Plantar Fasciitis
Hammer Toes
Ingrown Toenails
Metatarsalgia
Neuromas
Tarsal Tunnel Syndrome
Plantar Warts
They also utilize the latest in innovative treatments to address slow-healing, lower-extremity wounds associated with diabetes and other medical conditions, including bioengineered skin substitutes, individual education planning, infection management, and referrals for hyperbaric oxygen therapy.
Regardless of what type of ailment or injury brings you to County Wide Foot, Ankle & Wound Care, you can rest assured that Dr. Garzon and Dr. Fischborn will always treat you with the utmost care and professionalism.
Do You Need a Boynton Beach Podiatrist?
While they play a crucial role in keeping you mobile, the health of your feet also significantly impacts your overall well-being. Any sudden or lingering issue affecting your feet, ankles, or lower extremities could eventually affect your overall health – if it hasn't already.
According to the American Podiatric Medicine Association, foot and ankle pain shouldn't be considered normal. While occasional discomfort is to be expected, any pain that lasts more than a few days or weeks likely requires medical attention.
Get in touch with our Boynton Beach foot doctor if:
You've suffered from pain, swelling, or redness lasting days or weeks on end without improvement
You've been diagnosed with diabetes or are pre-diabetic
You've twisted or sprained a foot or ankle, which may have caused unknown fractures
You develop toenail fungus occurs or you notice a thickening of the nailbed(s)
You have an ingrown toenail
You develop any open sores or lesions on the foot
You experience any discharge or puss on the foot
You notice red streaks extending from the source of an affected or infected area
You suffer heel pain, tingling, or numbness
You have poor circulation
Your feet become warm at any point or change in color
You notice any unusual growth or ongoing cracks on the heels
About Our Boynton Beach Foot Doctor
Dr. Desiree Garzon, DPM, holds an Exercise Physiology degree from Florida State University and received her Doctorate of Podiatric Medicine from the Barry University School of Podiatric Medicine in Miami. She then completed a three-year residency in reconstructive foot and ankle surgery at Bethesda Hospital in Boynton Beach, where she served as chief resident.
As a leading Boynton Beach Podiatrist, Dr. Garzon is a board-qualified associate member of the American College of Foot & Ankle Surgeons. Along with serving as a staff foot and ankle surgeon at Orthopedic Surgery Associates in Boynton Beach, she has been published in several prestigious medical journals, including "Foot and Ankle Specialist" and "Therapeutic Advances in Cardiovascular Diseases."
In addition to maintaining the highest levels of professional accreditation, Dr. Garzon constantly pursues continuing education in the field of podiatry and makes every effort to share her knowledge with those seeking her care.
Schedule an Appointment Today
If you need a Boynton Beach Podiatrist, please call 561-369-3300 to schedule an appointment with Dr. Garzon or Dr. Fischborn today.
For our address or to send us a note, please visit our contact page. Our Personal Support Representative will be happy to answer your questions and address any concerns you might have.