To ensure your convenience, below is the information you need about our podiatry office, including our hours, location, appointment scheduling and insurance acceptance.
Appointments
If, for any reason, you cannot keep a scheduled appointment or will be delayed, please call as soon as possible. Charges may be incurred for appointments cancelled less than 24 hours before scheduled appointment time.

Insurance
Our office accepts a variety of HMOs, PPOs, and other health plans. Please call our office to verify acceptance of your insurance carrier.
Wellington Office
10115 Forest Hill Blvd.
Suite 102
Wellington, FL 33414

P: 561-888-6563
F: 561-734- 2811
Monday:
Tuesday:
Wednesday:
Thursday:
Friday:
9am - 5pm
9am - 5pm
9am - 5pm
9am - 5pm
9am - 3pm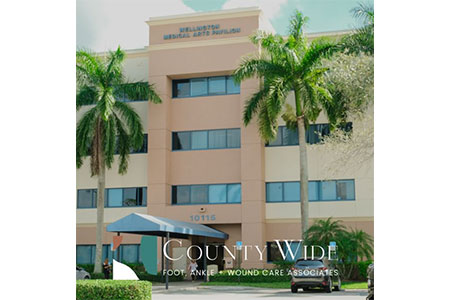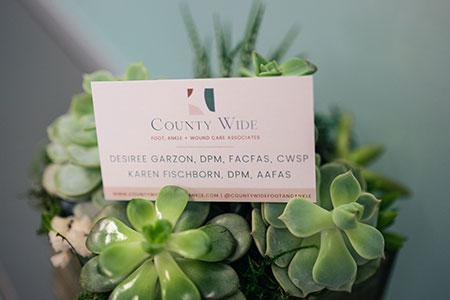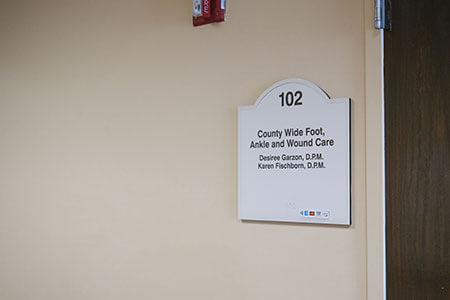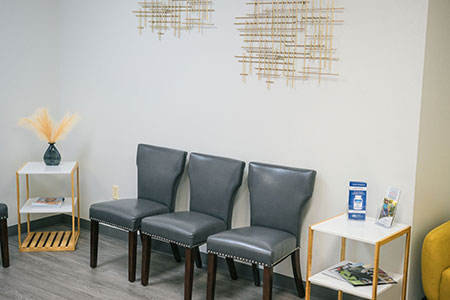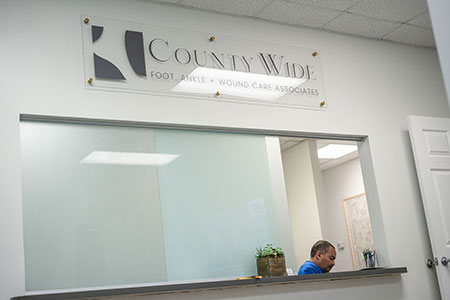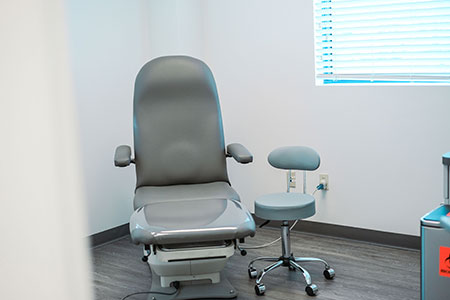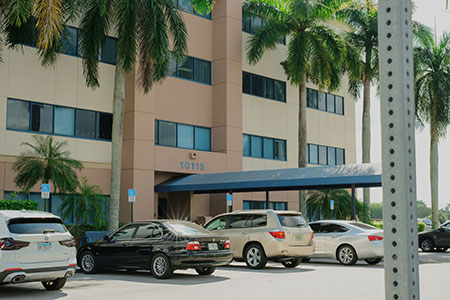 County Wide Foot, Ankle & Wound Care is a podiatry practice committed to helping patients throughout Southwest Florida put their best foot forward, lead by founder, Dr. Desiree Garzon, and associate, Dr. Karen Fischborn.
As leading Wellington Podiatrists, Dr. Garzon and Dr. Fischborn believe that everyone deserves to walk without pain. From routine checkups to complex surgeries, they are highly experienced and well-equipped to address all of your foot, ankle, and wound care needs using the latest diagnostic techniques and innovative treatments.
TO SCHEDULE AN APPOINTMENT AT ONE OF OUR CONVENIENT LOCATIONS, OR TO LEARN MORE ABOUT DR. GARZON'S OUTPATIENT SURGERY OPTIONS, PLEASE CALL 561-369-3300.
Isn't It Time You Saw a Wellington Foot Doctor?
Did you know that about a quarter of the bones in your body are located in your feet?
These bones and other structures aren't just critical to maintaining mobility. They also act as stabilizers and shock absorbers for the rest of your body. When something goes wrong with your feet or lower extremities, the issue will eventually impact your overall health and well-being.
Occasional foot pain is normal. But no matter your age, you should schedule an appointment with our Wellington foot doctor if you experience any discomfort that lasts more than a few days or weeks.
Our Foot, Ankle & Wound Care Services
Dr. Garzon and her staff are committed to delivering the best podiatric medical and surgical services in a prompt, efficient, and courteous manner, with an emphasis on each patient's comfort.
Achilles Tendon Surgery: Connecting the calf muscles to the heel, the Achilles tendon is the body's largest tendon. You won't be able to walk if it's torn, ruptured, or degenerated.
Foot/Ankle Fracture Surgery: Many patients wrongly assume a fracture of the foot or ankle is merely a sprain. The bone may require either stabilization or surgery, depending on the fracture points.
Arthritis Joint Surgery: Debridement or fusion surgery can relieve arthritis-related foot pain, depending on the affected area.
Bunion Surgery: Bunions are a deformity of bones and soft tissue caused by wearing narrow or tight footwear. The deformity can be corrected through surgery and properly fitted footwear.
Diabetic Foot Care: People with diabetes are prone to slow-healing wounds, foot ulcers, and even lower-extremity amputations. Including a podiatrist in your diabetes care reduces the risk of amputation by 85% and lowers the risk of hospitalization by 24%.
Custom Orthotics: Custom orthotics are a type of insole created from a mold of your foot. The finished product reduces stress on your body by helping your foot and ankle align in the most anatomically favorable position.
Flat Foot Surgery: By combining several surgical procedures, Dr. Garzon can repair ligaments and tendons, correct bone deformities, and return support to the arch.
Ganglion Cyst/Soft Tissue Mass Removal: A Ganglion cyst is a benign mass of jelly-like fluid originating from a tendon sheath or joint capsule. Depending on severity and placement, the cyst may be drained or surgically removed.
Hammer Toe Surgery: A hammer toe forms when a toe bends upward at the joint, usually due to a genetic deformity, muscle imbalance, or poor-fitting shoes or heels. Dr. Garzon performs tendon transfer surgery, joint re-sectioning, or a fusion procedure to correct this condition effectively.
Nerve Decompression: Diabetic Peripheral Neuropathy (DPN) can cause chronic numbness and tingling in the foot. Nerve decompression surgery relieves tightness in the area, allowing blood to circulate freely and reversing DPN's effects.
Plantar Fasciitis Surgery: While non-invasive treatments sometimes resolve this painful condition, other cases may require surgery. Dr. Garzon performs a minimally-invasive endoscopic plantar fasciotomy, which allows the patient to ambulate immediately after surgery.
Tendon Repair Surgery: Repairing a torn or damaged tendon, either by sewing it back together or grafting with another tendon, restores mobility.
Toenail Fungus Treatment: If toenail fungus fails to respond to non-invasive treatments, Dr. Garzon will perform an in-office surgical procedure to remove the nail and apply an antifungal directly to the surface of the infection.
Wound Care: Garzon specializes in treating Diabetic Foot Ulcers and other lower-extremity wounds that are slow to heal due to diabetes or another medical condition.
As a top Wellington Podiatrist, Dr. Garzon is a board qualified associate member of the American College of Foot & Ankle Surgeons and serves as a staff foot and ankle surgeon at Orthopedic Surgery Associates in Boynton Beach.
A Florida native, Dr. Garzon received an Exercise Physiology degree from Florida State University. After spending some time working as a research assistant, she earned her Doctorate of Podiatric Medicine from the Barry University School of Podiatric Medicine in Miami. She then completed a three-year residency in reconstructive foot and ankle surgery at Bethesda Hospital in Boynton Beach, where she served as chief resident.
Dr. Garzon always maintains the highest levels of professional accreditation and constantly pursues continuing education in the field of podiatry. She has also been published in several prestigious medical journals, including "Foot and Ankle Specialist" and "Therapeutic Advances in Cardiovascular Diseases."
Schedule an Appointment at County Wide Today
If it's time you saw a Wellington Podiatrist, please call 561-369-3300 to schedule an appointment with Dr. Garzon or Dr. Fischborn today.
For our address or to send us a note, please visit our contact page. Our Personal Support Representative will be happy to answer your questions and address any concerns you might have.