Desiree Garzon, DPM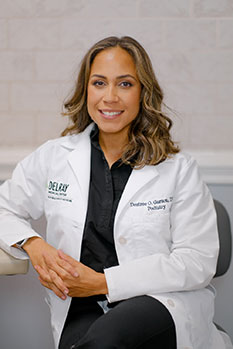 Desiree Garzon, DPM
A Florida native, Dr. Desiree Garzon received her Exercise Physiology Degree from Florida State University at Tallahassee. After attending Florida State University, she worked as a research assistant coordinating clinical trials while constructing protocols for ongoing medical studies. Dr. Garzon received her Doctorate in Podiatric Medicine from the Barry University College of Podiatric Medicine in Miami, followed thereafter by a 3-year reconstructive foot & ankle residency at Bethesda Hospital in Boynton Beach, FL.
Dr. Garzon has extensive training in Foot & Ankle Trauma and Reconstruction Surgery and lower extremity wound care. Dr. Garzon has lectured for state and county conferences and has published several research articles in publications such as "Foot and Ankle Specialist" and "Therapeutic Advances in Cardiovascular Disease". She also served as chief resident at Bethesda Hospital in Boynton Beach, FL. Dr. Garzon is a Board certified associate member of the American College of Foot & Ankle Surgeons. Doctor Garzon is also a staff foot and ankle surgeon at Orthopedic Surgery Associates in Boynton Beach. Dr. Garzon maintains the highest levels of accreditation and consummately pursues continued education in the field of podiatry.
Dr. Garzon is the externship director for the podiatry residency program at Bethesda Memorial Hospital in Boynton Beach, FL.
You can read Dr. Garzon's research on "LATERAL ANKLE STABILIZATION: The Williams Procedure" here.