Items filtered by date: December 2020
Monday, 07 December 2020 15:26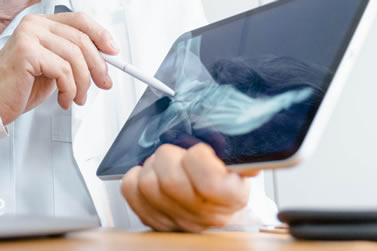 Small Fiber Peripheral Neuropathy
And How Epidermal Nerve Fiber Density Testing Can Help Diagnose It
Understanding Small Fiber Peripheral Neuropathy
Small fiber Peripheral Neuropathy is a condition that affects many, many people and targets the small nerves of the body. Often, the issue can present itself first in the feet, but is known to travel up the body if left undiagnosed, and can affect the hands, torso and even the face.
This disease specifically relates to the small diameter myelinated and non-myelinated nerve fibers, commonly referred to as the "small nerve fibers of the skin," as opposed to the large nerves found around the body.
Common complaints of Small Fiber Peripheral Neuropathy can include tingling, burning, and numbness – to name a few. Though, one of the classic issues with SFPN is that the symptoms may not be readily obvious. In fact, many with SFPN go undiagnosed because standard testing can lead to diagnostic confusion.
That's why Epidermal Nerve Fiber Density testing is becoming the gold-standard in testing for the presence of SFPN. Unlike other tests, Epidermal Nerve Fiber Density testing is able to test the nerves in question using high-performance technology to "see through" to the issue and determine its degree of severity.
What are the symptoms of Small Fiber Peripheral Neuropathy?
As aforementioned, the symptoms of SFPN can be elusive. In some cases, the common symptoms of SFPN are mild, and some symptoms don't present themselves at all. However, the general symptoms of SFPN include:
Reduction in sensitivity or feeling
Pain
Pins-and-needles
Pricks
Tingling and numbness
"Pain" associated otherwise normal stimuli
Burning sensation
Cold sensation
Sudden "shocks" through the feet or affected area
What are the causes of Small Fiber Peripheral Neuropathy?
Some studies suggest that anywhere between 20 and 40 million Americans deal with this condition. Potentially, the reason is because fairly common diseases are the cause of Small Fiber Peripheral Neuropathy. Some of the most common sources of SFPN include:
Diabetes
Glucose dysregulation syndromes
Thyroid dysfunction
Sarcoidosis
Vitamin B12 deficiency
HIV
Neurotoxic medications
Celiac disease
Paraneoplastic syndromes,
Paraproteinemias
Toxin exposure
Occupational hazards
Impulsively occurs
With that broad of a range of sources of disease, it's important to be diligent in understanding the various symptoms that are indicative of this condition. Knowing when your sensations are off is the first sign that there is a problem.
Diagnostic Confirmation
Normal to near-normal diagnostic testing results have often led to confusion about this particular condition. Coordination, motor and reflex tests may come back normal. This diagnostic confusion has led many patients to develop more severe symptoms, and in some cases, complete "loss" of the nerves. However, skin biopsies have proven very conclusive in testing the degree of degradation of the nerve.
That's why at County Wide Foot, Ankle and Wound Care Associates, we offer our patients who are exhibiting symptoms of Small Fiber Peripheral Neuropathy an Epidermal Nerve Fiber Density test. Just one small "punch" of skin at the affected zone can help us definitively conclude the appearance and severity of SFPN. The sample is sent out to be tested, where a solution is added to the sample and viewed under powerful imaging equipment. We're able to actually see the health of these fine nerves and diagnose the degree of degradation. Knowing this helps inform the treatment plan of action so that we can help maintain the optimal health of the nerves, as well as treat the symptoms of pain and discomfort.
Treatment for Small Fiber Peripheral Neuropathy
Treatment for SFPN depends on the underlying etiology. For instance, patients who suffer with Diabetes may be prescribed an insulin maintenance program, as well as diet and exercise to reduce their symptoms. Other patients may be best suited to take pain relieving medication or other recommendations. The continuum of care will depend on the severity of the disease and the source of the issue.
If you think you could be suffering with Small Fiber Peripheral Neuropathy, we urge you to call our office to schedule a diagnostic appointment to determine the cause of your symptoms, and to potentially see if an Epidermal Nerve Fiber Density test is right for you.
You can reach our office at 561-369-3300 or email us at This email address is being protected from spambots. You need JavaScript enabled to view it. for appointments.